Schlichter Bogard & Denton Commemorates Investigator's 23 Years of Service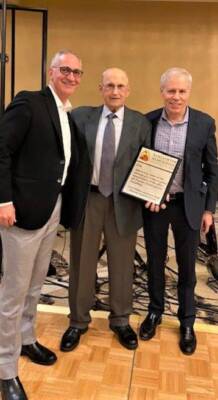 Following a 45-year-long career as a locomotive engineer for the Union Pacific Railroad, Leo Srubas began working with Schlichter Bogard & Denton (SBD) as an investigator. A longtime member of the Brotherhood of Locomotive Engineers and Trainmen, Leo has regularly attended union meetings throughout the Missouri/Kansas region to consult with union representatives and assist injured railroad workers. For over two decades, Leo has provided SBD with valuable insight into the railroad industry and has proven pivotal to our mission of providing top-tier, uncompromising legal representation to injured railroaders.
On December 8, 2019, SBD senior partners Jerry Schlichter and Nelson Wolff presented Leo with an award commemorating his 23 years of service to the firm and on behalf of America's railroad workers. Please join us in congratulating Leo as he continues this mission into the future.